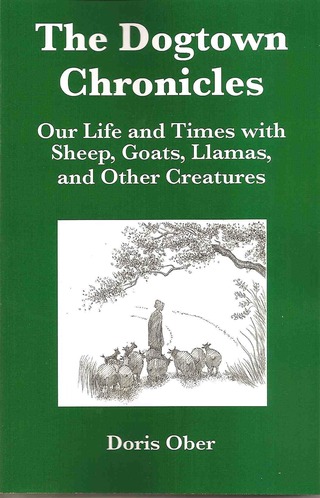 Check out the brand new (and very first) solo book by Doris Ober! CLICK ON THE COVER IMAGE TO VISIT THE DOGTOWN CHRONICLES WEBSITE and/or to purchase a copy of the book.

The Dogtown Chronicles, Our Life and Times... is a memoir as much as a layered love story, in which love of place, love of animals, and love of an inventive, adventurous partner grows over more than 20 years.

Readers meet the author in her 40s, when she was afraid of most animals and afraid to admit it to Richard, who introduced Moe and Curly, two Scottish Highland steer, to his 10-acre property in Dogtown not long after she moved in with him. After 10 years, the cumulative effect of Moe and Curly, sheep and goats, lambs and kids, and llamas, horse, dog, and cats—and Richard—had opened her heart to animals. The book shows how, through stories of the couple's adventures and misadventures with their menagerie of creatures great and small.

Stories feature Jacob sheep, San Clemente Island goats, an Arabian horse named Sharif, llamas Lloyd, Slaus, and Quentin, a Lakeland Terrier named Woody, and others.